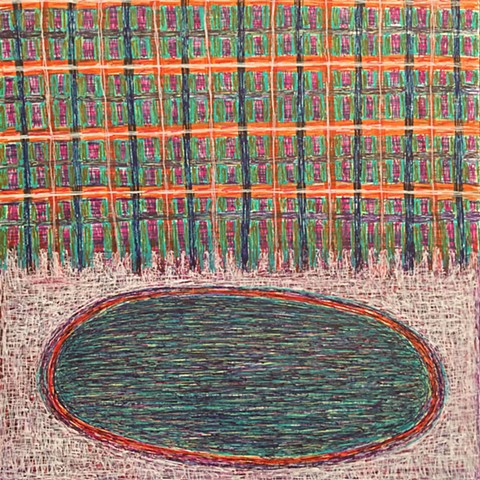 All my work comes from personal experiences with a focus on feminism, the environment, politics and history. I draw, paint, make sculpture, films and usable art.
I work in series beginning with writing and drawing. Then I'll continue with series of paintings, sculpture, usable art, all during the same time period. Each series expands into a multi media statement connecting all the work. I am interested in mark making, words, stories, colour relationships and textures. My materials are pencils, paint pens, watercolour, acrylic, canvas, wood, wool, sticks, rocks, found objects and video.
Biography
Katherine Surridge's work is in many public collections including Canada Council Art Bank, BC Provincial Collection, Burnaby Art Gallery, Edmonton Art Gallery, Richmond Art Gallery, Surrey Art Gallery, Art Gallery of Greater Victoria, Nova Corporation, The Toronto Dominion Bank and many more. Among her awards are a Canada Council B Grant, BC Cultural Grant and a scholarship from the Santa Fe Art Institute. Katherine has been an Artist in Residence at The Roundhouse in Vancouver,The Santa Fe Institute of Art and The Arlene Francis Center in Santa Rosa, California. She has a BFA from the University of Victoria.